The last two weeks have been hard. Hard is an understatement, actually. They've been grueling. I've felt beyond capacity and empty.
They have been the hardest weeks of the past few years of my life.
A few months ago, my ever-present seven year old red heeler mix companion and side-kick, Lina, started limping.
We rescued Lina from a shelter 6 years ago. I wasn't sure that I was ready for a dog, but Stacia knew this was the one. She couldn't have been more right.
Lina has been with us through thick and thin. She's road tripped across most of the US multiple times, moved three times, and always helps us remember to stay in the moment, to get outside, and (of course) to play more.
The limp wouldn't go away, so we took her to the vet. That appointment turned into a series of appointments and eventually a biopsy.
That biopsy came back with worse news than we could have expected— cancer.
And further lab work proved it to be a highly aggressive cancer— hemangiosarcoma.
A week and a half ago, we had our first meeting with an animal oncologist. One thing lead to another and we found ourselves faced with hard and expensive choices: radiation, amputation, and/or chemo.
The vet encouraged us to amputate her leg, where the limp inducing mass had grown, in order to slow the spread. The good news was that the cancer had only gathered in her leg. The bad news was that this kind of cancer will haunt her for the rest of her life.
There was no good decision and yet we had to make a choice.
Amputate the leg of a highly active dog who loves to play frisbee and hike? You can't explain this to her. You can't tell her what you're doing and why. How could we choose that?
Choose radiation and risk the cancer spreading before it takes effect? If it doesn't work, there's nothing left to do.
Do nothing and wait for the cancer to take her life? Another impossible choice.
On top of all of this is the question of how do we keep going in the midst of difficulties?
How do I keep getting my work done? How do I push forward and take initiative on difficult projects when my capacity for difficult things was already exhausted?
I couldn't.
Though I get to do my life's work here with the Meaning Movement, I found myself without energy to write, work on projects, or connect with people. Though a few days prior, this was the most important project for me to work on, in the midst of a battle with cancer it seemed to matter so little.
When difficulties comes, survival may be all you can do. [tweet that]
My thoughts were far away from questions of purpose and meaning. They were about me, Stacia, and brave Lina. I had to let myself off the hook for the rest.
Maslow's hierarchy of needs is a part of this conversation. The highest level is "self-actualization," which includes things like pursuing desires and bettering oneself. It is difficult to think about this kind of desire and pursuit when there are more basic needs that are threatened— the levels of safety, love, and belonging. Or the health, wellbeing, and life of your best furry friend.
You can't entertain questions of meaning when questions of immediate needs are more pressing.[tweet that]
I've told this to potential clients before. The time to start working on the big question of what you're going to do with your life is not when you are without stability and a source of income. You have to start by finding a way to meet life's basic needs and to create space for the deeper questions.
If you need a job, now is not the time to find the most meaningful job possible. Now is time to find a job. Your next job after that one can be meaningful.
Finding meaning and purpose begins with making space for yourself.
Nine days ago we made the hardest decision and chose to amputate Lina's leg. She went in for surgery on Tuesday and came home last Wednesday. She's a trooper and is adjusting to life with only three paws. It's heart breaking to have to have made that choice, yet it was the right choice.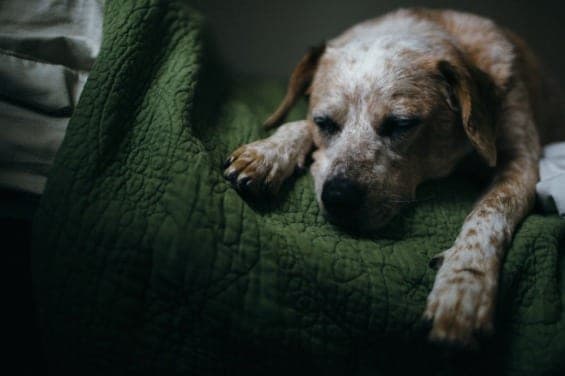 We're not sure how long we have with her. We're not sure what will happen next. But we know that she's an amazing animal and we're going to squeeze the most out of life together. We've set up a Go Fund Me to help with the heavy financial burden. Whether or not you'd like to contribute, I'd like to invite you to follow along with our battle with Lina's cancer (I won't be posting updates here), and share with anyone who may want to participate with us. Click here to visit the page.
Purpose and meaning only come through hope.[tweet that]
In the comments, I'd love to hear your thoughts and any shout outs to the furry friends in your life.