Picture this with me: a large elephant chained to a small post in the ground.
Maybe you've seen a similar sight? It's a powerful visual. Why would a large and powerful elephant be held captive by something so small and insignificant?
It's because of what that elephant has come to believe about himself and that post. If you tie an elephant to a post when he's young, he can't get away. If you do this regularly while he grows, he'll continue to believe that he can't escape, no matter how large he becomes.
If the world tells you the same story enough times, it's hard not to believe it.
By the time he's an adult he won't challenge the power that a little post and chain has over him.
He accepts the fact that he can't pull the post from the ground — even though he now can. He has a history with that post and remembers the power that it used to have over him.
But the fact is that he could break free if he wanted to— if he could believe that he was capable.
How often have you accepted something that was true in the past as being truth in the present? How many posts have you been tied to? How much would it take for you to break free?
Toward the end of the year, we all tend to get reflective.
It goes like this: as the holidays come to a close, a new year stretches our before you. It's easy to feel the possibility. It's easy to imagine how things could go, what you could do, where you could be a year from now.
Simultaneously, a year is ending. You think back to what you did this time last year, and the many things that have happened since.
Then you make decisions about what you hope to pursue. Maybe you spend some time dreaming. Maybe you consider some new years resolutions to start things off on the right foot.
Does that progression sound familiar? Do you notice how it goes?
Possibility ahead. Experiences behind. Choices for the future.
Future. Past. Present.
That's an important progression to be aware of. I've said it before: you can't know where you're going unless you know where you've been. Why? Because your past shapes what you hope for and desire in the future. Consciously or not, what you've been through and experienced is what you use to determine what you'd like your future to be.
Your past is the lens through which you see the world.
And based on your vision of the future, you make choices for the present in order to pursue a certain future.
Thus, the best way forward to a better reality is to uncover, discover, and process what has shaped your journey up to this point— to become conscious of how it formed you and the biases that you have because of it.
If you set goals based only on your thoughts of the future, you're like that elephant tied to a post— stuck believing an old story about yourself.
The turn of the calendar year is a natural place to ask questions and choose your story for the coming year.
I've been working hard with one of my favorite designers to create a tool to help you both look back and dream forward. It's a guided process to help you do iterative goal setting— which means you set goals based on where you are and where you've been, and then you revisit and reset those goals regularly. This keeps them in front of you and allows you to adjust course as needed.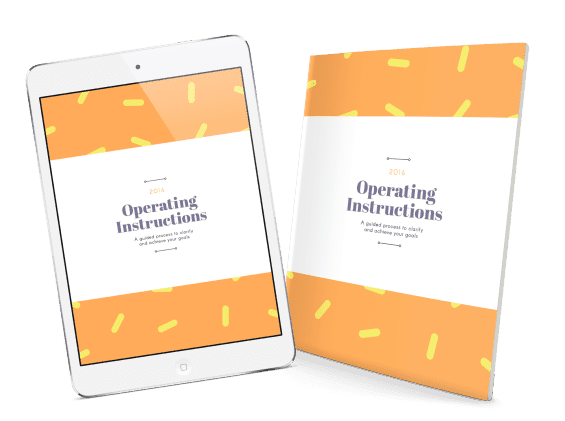 Check it out here. It'll change your year. It may even change you.
As the year begins, may you have the courage to dig deep, question the narratives that you've been believing, choose your story, and find your power.
(Photo by Felix Andrews / CC)