Every time I fly somewhere, my favorite moment is take off. It's such a rush to watch out the window as the airplane gains speed. Soon the markers on the edge of the runway are indistinguishable blurs as we speed past them. And finally the plane lifts off and the earth drops away.
It's in those moments just before and after takeoff, and again at landing when you can most clearly sense the speed at which you're traveling. Most of a flight is spent so high and far from the ground that it's difficult to grasp your speed. Out the window, the ground rolls by at a snails pace. The clouds in the distance move similarly slow.
I know we're moving quickly because I know we're covering a distance of many miles, yet I don't feel the speed.
This is very much my experience of the day in and day out of life. I have big goals and big dreams that I'm chasing after. Like the earth from a plane, I don't feel like I'm advancing on them. All I know is that I keep going.
Don't get me wrong! Great things happen along the way, but it can be difficult to keep the vision, stay the course, and keep at the routines, habits, and disciplines that are taking you where you need to go.
It's because of that experience that my wife and I first began doing an annual review.
I've come to believe that you can't know where you are unless you know where you've been.

[tweet that]
We didn't start with a clear idea of how to go about doing this. Like most things in life, you just have to start somewhere. So that's what we did.
Over the past few years, we've developed a system that works well for us that I wanted to share with you.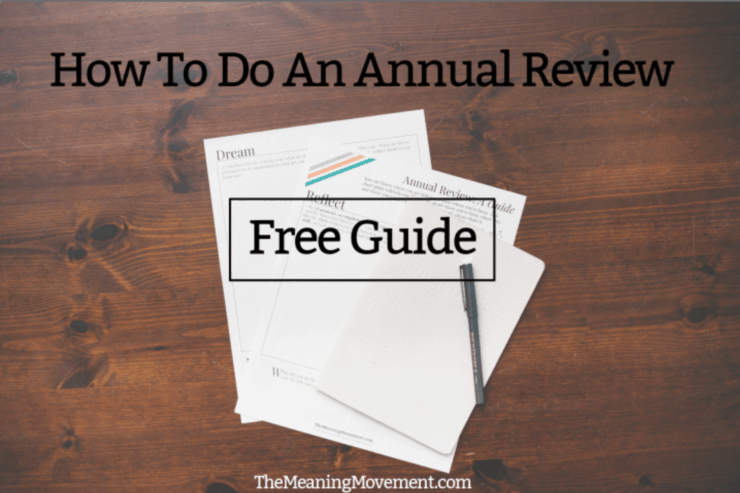 We've put together a guide that you can download to walk you through a simple method for reviewing the year and making adjustments for what is to come. Hit the button below to download


[symple_box color="gray" fade_in="false" float="center" text_align="left" width=""]
Download the Annual Review Guide
[/symple_box]
What you'll need:
About an hour, though more time won't hurt.
Your calendar, journal, or other items to help you remember the past year.
Something to write with. The review is designed so you can print and write directly on it, but you can also write in a digital or physical journal.
What to expect:
Prompts to get you thinking about where you've been over the last year.
Questions to get you thinking about where to go next.
Takeaways to help you know what changes to make in the coming year.
[symple_box color="gray" fade_in="false" float="center" text_align="left" width=""]
Download the Annual Review Guide
[/symple_box]
Download the guide and share your findings from your annual review in the comments.