I'm sitting at my desk. Watching a cursor blink on a blank page. It's 9:11am. I intended to start writing this over an hour ago. But I haven't been able to.
I had hopes of writing something big and courageous to you today, but it's just not how I feel. I feel small and afraid.
Creating something worthwhile— whether a blog post, a piece of art, a career, or a life— is hard and scary work.
This probably isn't news to you.
I had a friend who took a cold shower every day for months in an effort to build mental toughness. I talked with him about it when he was well into the project. He said, "You'd think it gets easier. It doesn't. You get used to the idea that you're going to step into that really cold water and it'll be hard to stay there. But the act of being in it doesn't get easier. You can get used to getting in, but you don't get used to staying."
I want creating something meaningful to get easier, but like taking a cold shower, it doesn't. You may get used to sitting in your chair, but the hard work of creating is always hard work. It's easy to imagine that others have it easier— that others don't fight the same battles you do — but they do.
The temptation is to give up because you have too far to go.
The step you're taking today may barely matter in the face of where you want to be. The work you're doing right now may not feel like it's moving you any closer to the work that you want to be doing— but it is. And that's the real battle: staying the course. Not giving up. Holding onto your hope. Believing that more is possible.
Work worth doing isn't glamorous. It's often mundane and often difficult. Creating something you believe in takes having heart and the guts to show up, even when you don't know if it's going to work.
And that's something that I must continually remind myself of— to keep going even when I don't feel like it.
It's what I have to remind myself right now I type this to you: "This matters. This is a step of the journey. This is taking you somewhere. Don't give up."
And it's with all of this in mind that I've created the first ever physical product for The Meaning Movement. Designed by the spectacular Lizzie Callen just for us.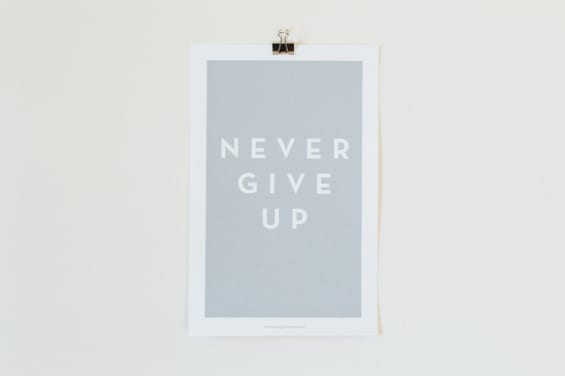 We've made a one time only limited run of 45 copies screen printed on 140 pound paper with the simple message, "NEVER GIVE UP".
Here are the details:
Limited run of prints. When they're gone, they're gone.
Hand pulled screenprint
Print size 11″ x 17″
Printed on heavy 140# paper
Prints ship rolled in a hard kraft tube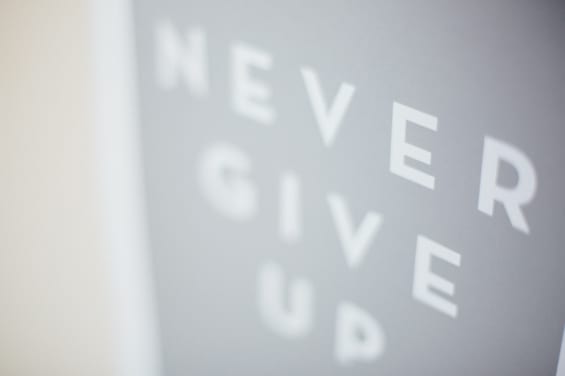 While I wanted to write something big and bold today, instead I'm writing this. It's more real, I suppose, because today, as much as any day, I need this reminder.
Never give up.